The United Way of the Upper Ohio Valley presented The Building a Better Community Award at its second annual Williams United Way Appreciation Breakfast on Thursday, November 30, 2017, to H. Lawrence Jones, Ph.D.  The breakfast was held at Wheeling Island Hotel-Casino-Racetrack.
The Building a Better Community Award is given to the person who has given of his or her time, talent, and treasure to the United Way of the Upper Ohio Valley and our community.  Dr. Jones has served as an ambassador for the United Way over the years while serving on the board of directors and various committees.  Most recently Dr. Jones serves on the planned giving and development committee.
"The United Way is one of the most efficient and effective ways to invest your charitable dollar.  Efficient in that the volunteers ensure that the overhead is negligible, and effective in that the United Way agencies change lives with their services.  There is no better way to share your time, talent and treasure," proclaimed Jones.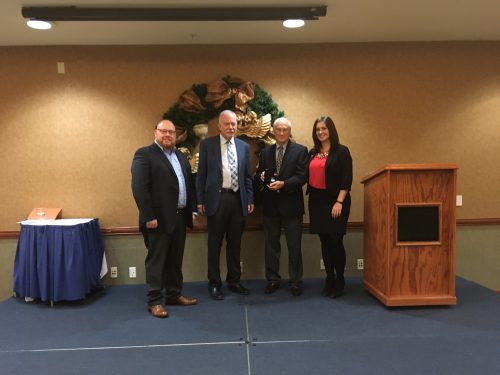 Jason Haswell, United Way Board of Directors President; George Smoulder, United Way Executive Director; Dr. Larry Jones; Jessica Rine, United Way Associate Director
"Throughout his adult life, Larry has continuously been involved with various educational and community organizations.  He is always searching for ways to improve the lives of individuals and families living in the Upper Ohio Valley," said George Smoulder, United Way Executive Director.  "Stuart Bloch was our first recipient last year.  We knew he would be a tough act to follow.  But, Larry is the perfect example of someone who has supported the United Way and the good work of all of our agencies for decades,"  Smoulder added.
Dr. Jones is a Wheeling native and graduate of Warwood High School.  He received an Army Scholarship to Marshall University where he obtained an education degree.  He continued his education and received graduate degrees from West Virginia University and Wheeling Jesuit University, and a doctorate from WVU.
A retired Lieutenant Colonel in the US Army, Dr. Jones spent 28 years with Ohio County Schools before retiring as superintendent.  He is also the retired chair of Wheeling Jesuit University's Education Department where he currently serves as an adjunct associate professor.
Dr. Jones' community involvement is widespread.  He is the newly elected president of the Community Foundation for the Upper Ohio Valley; a member of the Wheeling Rotary and Lions Clubs; former president of the YMCA's Board of Directors; an Elder at First Presbyterian Church; and one of the original Ogden Classic Iron Men.
For more information about the United Way, to volunteer, or to make a donation, log on to www.unitedwayuov.org. The United Way also can be reached at 304-232-4625.