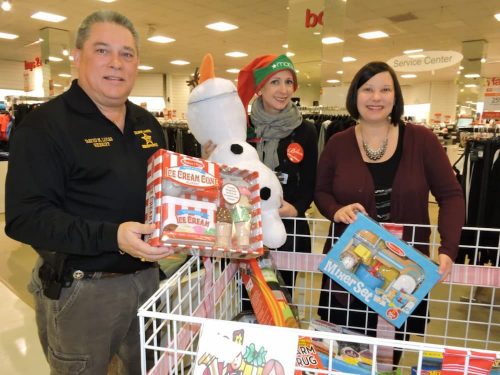 Wheeling Intelligencer, CASEY JUNKINS
St. Clairsville OH:
Wheeling Police Chief Shawn Schwertfeger and Belmont County Sheriff Dave Lucas are used to working across state lines to fight crime, but now they'll get to do so in the name of providing Christmas joy to children in need through "Operation Toy Lift."
Set for 8 a.m. to 4 p.m. Saturday in the parking lot of Macy's at the Ohio Valley Mall, the operation's purpose is to collect new and unwrapped toys for distribution to children across the five counties served by the United Way of the Upper Ohio Valley — Belmont, Ohio, Marshall, Wetzel and Brooke.
The charitable venture may even find Lucas, Schwertfeger, other law enforcement officers or other volunteers working inside the bucket of a crane to lift the toys into place.
"A lot of times, we see people who are facing very unfortunate circumstances. We have empathy for these families, particularly for the children," Lucas said. "Hopefully, we can brighten up their Christmas."
Macy's store manager Jennifer Prietsch gave credit for the idea to Schwertfeger.
"At first, we thought we would try to do it in 2018, but there was so much enthusiasm that we put this together in a week and a half," she said.
Schwertfeger said he experienced success with a similar program while working with the Albemarle County Police Department in Charlottesville, Va.
"It worked really well in Virginia," he said. "I wanted to see if we could get it going here as a way to help the children."
United Way Associate Director Jessica Rine said many children throughout the area may not get Christmas presents without help through events such as this.
"We're really excited to see the Wheeling Police Department and the Belmont County Sheriff's Department collaborate like this to help us," Rine said. "We will be able to provide gifts for those who otherwise may not have any."
Mall Marketing Director Candi Noble-Greathouse said the retail center's merchants, along with the employees of those stores, typically are generous when it comes to children.
"The United Way is the perfect connection because they know where there is a need," Noble-Greathouse said. "This has been a huge success in other markets, so we are hoping for the best."
Prietsch said one toy bin located inside the store is more than halfway full already, mostly from donations by associates.
"This is about getting children to believe in hope. In addition to hope, they should always have a chance to be happy, especially at Christmas," she said.
"It gives you a good feeling when you can bring a smile to a child's face," Lucas added.
Those interested in volunteering to help with the event are urged to call the United Way at 304-232-4625.
Other organizations assisting with the operation are American Electric Power, Bill's Towing, Tricor Rental, WTRF-7 and iHeartRadio.