We are UNITED in improving health, education and financial stability as a WAY to strengthen the Upper Ohio Valley. You can help by joining us a Night at the Races.  Get your tickets now for March 29, 2019 to join us for a fantastic evening of greyhound racing, food and fun. Back this year Blackjack beginning at 7:00pm. You may even see a local celebrity or two at the tables.  Carenbauer Distributors will also be there with beer tastings when Blackjack starts.
Thank you to our WIN sponsors: Wheeling Island Hotel Casino Racetrack, WTRF TV7, Pepsi, and Gold, Khourey & Turak.
Thank you to our PLACE sponsors: Monteverde Group, MarkWest, Woodforest National Bank, Panhandle Cleaning & Restoration, The Times Leader and The Wheeling News Register/Intelligencer.
Thank you to our SHOW sponsors: AEP, The Cornerstone Group, Lamar Advertising, Main Street Bank, WVU Medicine Reynolds Memorial Hospital, Costanzo & Associates, H.E. Neumann, Dr. Alex High, Belmont Savings Bank, Harvey Goodman Realty, City Advertisers, WesBanco, Beyond Marketing and Grisell Funeral Homes & Crematory.
A special thanks to our Cause Marketing sponsor WVNCC. Also to Lamar Advertising for our awesome billboards!
Doors open at 5:00 and the buffet will be available at 5:30.  Tickets are $35. You can pay with credit card over the phone or by check or cash or online here. No sales at the door.
BLACKJACK: Each attendee will receive a no-value chip and will be invited to the blackjack tables with local celebrity dealers. Every player that receives a Blackjack will be entered into a prize drawing! NEW this year will be a prize table where you can "cash" in your winnings for prizes.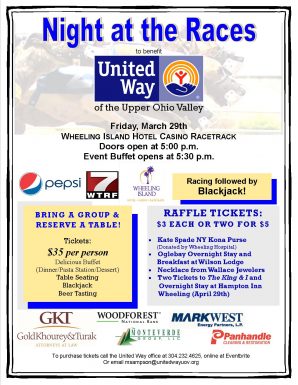 Also, check us out on our Facebook page here.