I'm excited to share that I had such a heartwarming surprise that made it well worth going to work in between Christmas and New Year's this year.   I love Christmas cards and when I saw a pile of envelopes on my desk at work, I smiled assuming they were Christmas cards.  When I opened the first small card, the words "Thank You" took me by surprise.  I opened it and read each hand-written word.
"Dear United Way of the Upper Ohio Valley – What a surprise to receive a Christmas gift and meal for our family.  Thank you for caring for us and making our holiday a little bit merrier."
And then another …
"Thank you for all you have provided for our family! Your help is much appreciated."
And another …
"Thank you for the dinner and the toy for my son.  He LOVES Thomas the Train."
There were many more just like this from families in Wetzel County. 
How it Happened:
Our Nonprofit Organization
Maddi(our associate director), Tina (our board member active in Wetzel and Tyler counties) and I recently held a meeting in New Martinsville for Wetzel and Tyler County. Community members and nonprofit organizations to talk about the needs community giving and how we can help.  When speaking to the Family Resource Network director for Wetzel County, Elizabeth mentioned that she would love to be able to do something special for their families.  We were able to provide toys and meals because of two holidays programs we are a part of:  We help collect and hand out toys and donations through Operation Toy Lift.  As we do with many nonprofit agencies in the area, we invited them to come and "shop" for free from the toy donations.  We also collect donations during the holiday season to help feed under privileged families holidays meals, and were able to give some of that funding to the agency as well.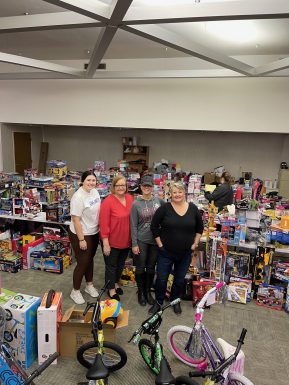 Holiday Gifts:

Another One That Touched Our Hearts

"Jessica, thank you so much for the generous holiday dinner and gifts.  We are looking forward to enjoying our holiday dinner together this week.  The boys absolutely love the gifts and couldn't wait to play with the Paw Patrol game and the wooden truck.  We truly appreciate your kindness."

Receiving these thank-you cards meant a great deal to me personally and professionally.  What a perfect way to feel right before kicking off a new year.  Thank you to all of the donors of Operation Toy Lift and our Holiday Feeding Program for making it possible to impact these families.  And thank YOU, Wetzel County families, for your impact on my heart over the holidays.

The United Way of the Upper Ohio Valley is the communities' giving plan. We fight for the health, education and financial stability of every person in the local community. We raise funding by partnering with community-minded businesses on employee campaigns and fundraisers. We then help donate money to local charities through an allocations process with recommendations of your fellow donors. Thank you for your consideration to donate to the United Way of the Upper Ohio Valley Nonprofit. We make sure that donations received are going the furthest they can to improve lives in the Ohio Valley. 

To donate to Operation Toy Lift, Holiday Feeding or our annual campaign: https://unitedwayuov.org/give/

About Us: 

We all win when a child succeeds in school, when families are financially stable, when people are healthy. Our goal is to create long-lasting changes by addressing the underlying causes of these problems. Learn how you can give a nonprofit donation or volunteer your time to make a difference in our community. 

https://unitedwayuov.org/give/annual-campaign/