I had the pleasure of chaperoning my daughter, Miley, and her classmates from Our Lady of Peace a few weeks ago.  The whole school does a food drive and the 5th graders are the ones who get the task of taking the donation to the Catholic Charities Neighborhood Center, followed by lunch at McDonald's.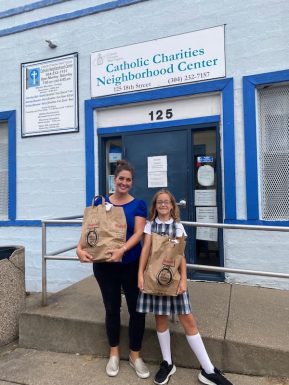 The team work was great right off the bat.  The kids helped load up many parents' vehicles.  When we got to the Neighborhood Center, the parents parked and the kids helped unload the food from the parents vehicles onto carts and take the donations into the pantry. The shelves were not full when we got there, but they sure were when we left an hour and a half later.  I adored seeing them worked together sorting the donations into categories and then putting them on the shelves.   In fact there were so many donations that the kids had to help put lots of the food in crates and put it in storage.
I unrealistically wanted them to know in a heavy way how much of an impact they had with this act of volunteerism.  They were learning life skills throughout the entire process.  Asking for donations, collecting them, transporting them, delivering them and putting them away.  But at the heart of what they were doing was providing nourishment for the under privileged population in the community where they live.  Kids can sometimes be hidden from the some of the deep suffering that our neighbors face day in and day out.  I was glad they were able to get a glimpse of the impact of kindness.
Realistically, they are kids and it was likely more fun for them to get out of class and grab some fast food afterwards.  But I'm hopeful that the parents stressed the importance of their actions and they is a day they will look back on and remember.  I know that I certainly "felt" it when a man sitting outside of the neighborhood center smiled and told the kids thank you.  I'm so glad we live in a community where these opportunities of volunteerism are available for anyone that wants to get involved.  If you are interested in volunteering for Catholic Charities or another organizations, I would be happy to get you in touch with organizations that would love to have you.