Jess Rine – Executive Director of the United Way of the Upper Ohio Valley
If you would have told me in 2019 that in 2020, there would be a toilet paper shortage, everyone would be wearing masks, and people would finally be washing their hands religiously, I wouldn't have believed it.  And those aren't even the strangest things that have happened this year.  This pandemic has flipped our world upside down.
It changed the way I shop.  I love sales and coupons and cooking, so grocery stores are my happy place.  I thought the only time I would have to make a list–and ACTUALLY stick to it–would be when I was in a time crunch.  My kids know that when I say "I'll only be 10 minutes," that I have no real intention of tracking my time in the store.  But when you're shopping during a pandemic, you're in and out.  I've forgotten my mask and have had to go back and get it 95% of the time I was approaching those automatic doors.  At least with the masks, I can now talk to myself in a low tone while shopping and staying six feet apart, and it makes no one the wiser.
This has also changed motherhood. I'm blessed that my kids have a wonderful school with wonderful teachers, who did their best when they were thrown into the unimaginable situation of giving kids homework without being able to teach any of the lessons.  We tried, teachers.  I'm speaking on behalf of lots of parents here.  I swear, we tried.  It was at times comical, and at other times, tears were shed by all of us.  But outside of teaching, being at home with the kids for six weeks was something that I only got to experience while I was on maternity leave. I had to try to keep a positive attitude.  Life is as traumatic to our children as we parents make it appear.   So we played more games. We did many arts and crafts projects.  We took lots of walks.  The days seemed longer.  Take out the time of getting ready and the time traveling to get where you need to go, and it seems like there are way more hours in the day to LIVE.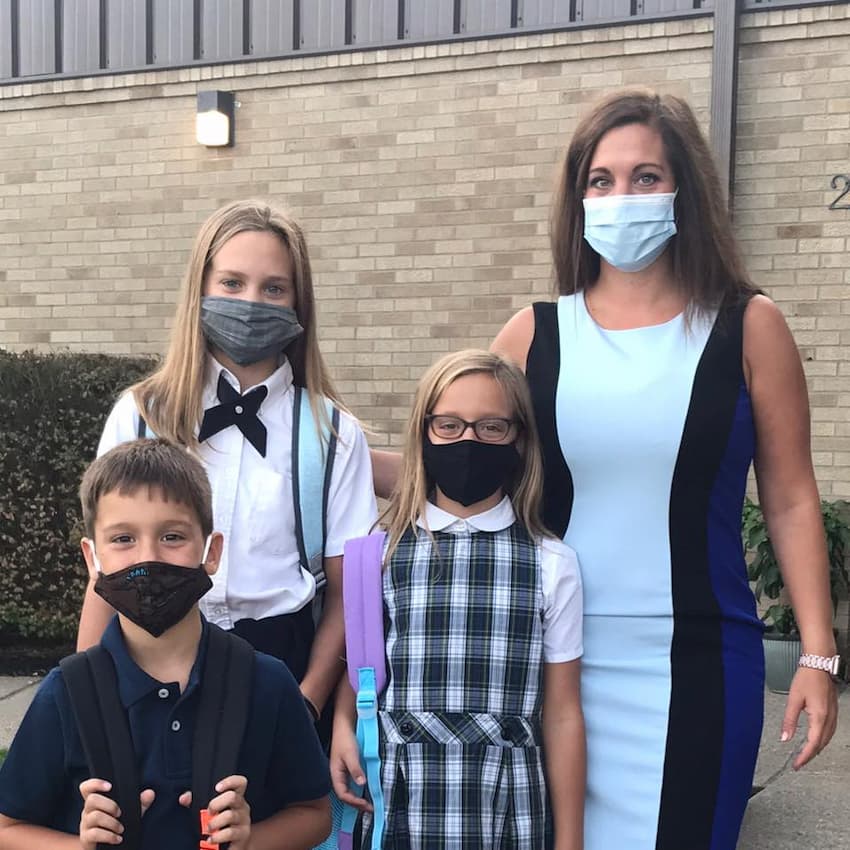 The pandemic drastically changed the way I work.  I love my job.  One of my greatest wishes for everyone is that they can say they love their jobs, too.  We spend too much time away from family and friends at work, and I'm blessed to have a career that is so personally rewarding.  My position has me out of my office a lot.  I was told by a previous board president that my job was to be out in front of people talking about the United Way and building relationships (two of my favorite things), and that is tougher to do behind a desk.  I'm also happily involved in lots of the communities that we serve.  There are board meetings, committee meetings, ribbon cuttings, lunches, special in person events… all things that give me a chance to talk about the United Way and build relationships.  And ALL of that came to a screeching halt.  In the blink of an eye, I'm suddenly sitting at home in leggings, with my hair in a ponytail, on my laptop and on the phone, trying to find someone to tell me what to do.  How do I help?  Businesses are shutting their doors.  People are losing their jobs.  They aren't leaving their homes.  They are getting sick and some are dying.  The rest of us are confused and panicked.  I had such concern for the beautiful agencies and programs that the United Way funds. 
Fundraising Strategy
People are going to need help and they only have so much funding. FUNDRAISERS!  All of the fundraisers are canceled.  We cannot gather the community — which is so important — to figure out how we can help to make up for those financial shortfallings.  That's when we decided to start a community impact fund created specifically for programs helping with the restrictions due to the Coronavirus (COVID-19) pandemic. And just like that, hope ensued.  In all of the chaos, I admittedly failed to remember where I live.  The Ohio Valley is a very generous and very giving community.  People wanted to help.  They just needed more avenues to do so, and so we started to look at unconventional ways to give–including anything that resembled a fundraiser.  One program caught my attention because we have all been saying YES in checkout lines to "rounding up to the nearest dollar for X charity" programs for years.  (You can find out more about Spare Change here:) Next, we started thinking about our new fundraising campaign that kicks off in September every year.  If we wanted to stay strong, we had to stay united amidst the division.  So we themed our campaign "Still United."  And I got chills announcing it to our board members.
While we as consumers, parents and professionals are still trying to crack the code on how to function in this (hopefully temporary) new world, my heart has been soaring while watching what goes on behind the scenes to address the new concerns the pandemic restrictions have brought to our communities.  The collaborations are powerful and the organizations that are coming together are making waves in their successful fundraising efforts.  Ohio Valley, we are blessed to live in a place where we have so many people fighting for us and our neighbors who are in the crisis.  While this world has drastically changed, we are "Still United."  
The United Way of the Upper Ohio Valley is the communities' giving plan. We strive to serve the biggest needs in our community and to make sure that the nonprofit donations we receive are going the furthest they can to improve lives in this community. Learn more about the nonprofit agencies that receive funding from YOUR charitable donations.
For more information on how to give local donations, visit our 2021-2022 annual campaign.